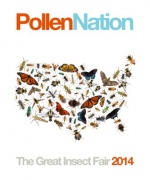 Why are pollinators so important to our daily lives? People from Pennsylvania could find this out by visiting the Penn State's Great Insect Fair, which took place from 10 a.m. to 4 p.m. on Sept. 13, at the Bryce Jordan Center on the University Park campus.

The theme of this year's fair was "PollenNation," according to fair coordinator Steve Jacobs, senior extension associate in entomology.

"Insects pollinate approximately 75 percent of the food we eat, but there have been dramatic drops in pollinator populations worldwide," Jacobs said.

Sponsored by the College of Agricultural Sciences' Entomology Department, the fair provided information on what is killing bees and other pollinators and how to create and protect pollinator habitat. Related activities and displays featured honey tasting, pollinator diversity and nesting habitat, bee observation hives, a pollinated-food table, and "pollinator theater."

Attendees also received a "Pollinator Passport Book" and had it filled by visiting all of the event's pollinator booths.